Before we explain how to become a house sitter let us give you a quick overview of exactly what house sitting is and who can benefit from it.
We get excited teaching others how to start house sitting and want to give you all the necessary information. So this might be a lengthy post. In this post you will hear our success stories, house sitting best practices, and plenty of information how you can save on travel expenses and travel accomodation.
If you are looking to offer your house sitting services in your home country, this article is also perfect for you.
To jump straight to how to become a house sitter in 10 steps see the table of contents below.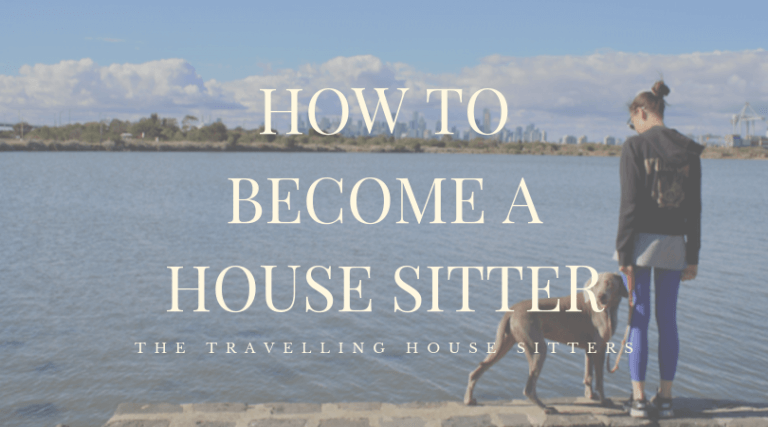 An Introduction to House Sitting
House sitting is starting to gain in popularity throughout the world.
Essentially it is a really fantastic concept that pet/home owners & couples/solo travellers can both gain a huge benefit from.
Over the past 3 years we have looked after almost 30 homes. We enjoy talking to home owners about house sitting and their thoughts and experiences.
While talking to home owners we have discovered there are three main reasons why homeowners love house sitting:
The peace of mind their pets are going to be looked after and loved by real pet lovers.
Their pets can keep a normal schedule.
Even though they are going to be away the pets will be at home in a familiar environment.
That is three things that you don't get from pet hotels or pet boarding services.
The most obvious benefits for the house sitter are:
Having a pet to love while travelling.
A comfortable home to look after.
The ability to save on accommodation while travelling or saving for a home.
Being able to explore a city like a local, not a tourist.
Having the freedom to travel to anywhere in the world.
House sitting has many benefits to different types of people including:
Young couples trying to save for their first home.
Individuals who can't afford rent.
Long term travelers who want a place to settle.
Those who miss animals. Whether that be because they are travelling, can't have pets at their own home or can't afford pets.
Retirees looking for a cheap travel accommodation.
Nomads looking for international house sitting jobs.
We have been offering our house sitting services for a little while now. Slightly over three years. In that time we have had the opportunity to look after homes all around the world.
Some of our highlights so far:
Australia, Barcelona, Bourdeaux, Canada, Chiang Mai, Caribbean, Dublin, France, Kuala Lumpur, London, Rome, Spain, Istanbul, and Northern Italy.
We are both pet lovers and nomads at heart. We love exploring and don't like staying in one place for too long. House and pet sitting is the perfect lifestyle option for us.
Since we love house sitting so much, we want to help others wanting to get started! Below we have broken down how to become a house sitter into 10 easy steps.
Do you want to get started house sitting ASAP? Skip our how to become a house sitter tips and sign up to one the house sitting websites we have found so far!
Or check out our trusted house sitters reviews for more information about their platform!
Lets get into how to start house sitting gigs!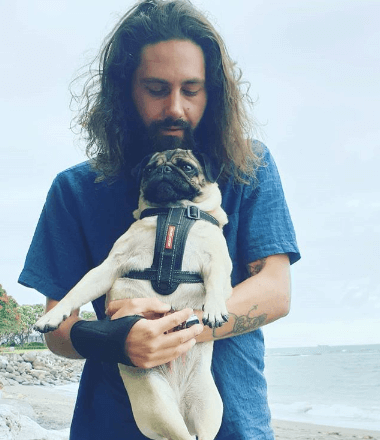 How To Become A House Sitter – Step By Step Guide
Genuinely Love Pets and Animals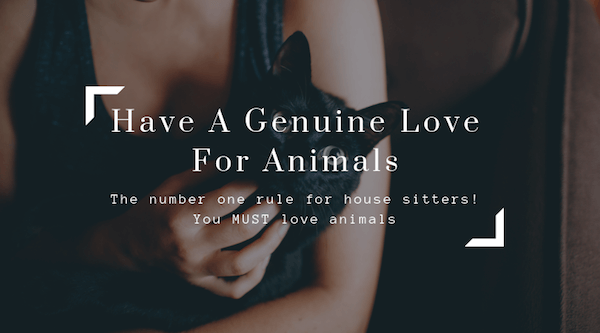 Our best advice: You must love pets! This is the golden rule of house sitting! You will find that most house sitting assignments out there are focused around the pets. Pets are important members of most families and are often treated like royalty. Usually this is a cat and dog, but it is not uncommon to see horses, chickens, llamas, ducks, turtles, rabbits and the pet care responsibilities that come with those animals.

Putting pets into pet hotels can be expensive. Generally speaking, taking pets to such establishments can be stressful and in some cases even harmful.

Therefor you must genuinely love pets. You need to be able to look after their pets like they are your own. You need to give them the love, and kind cuddles they would usually get.

Pet sitting lets animals stay comfortable in their own environment and stick to their normal routines. This keeps them happy, calm and not missing the owners too much.

Let's face it the pets didn't get to go on holiday so they need some special attention while their owners are away on their trip.
Get Your House Sitting References and Reviews Together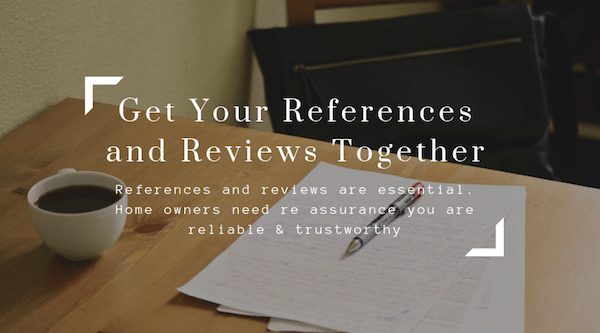 Like everything these days, reviews and references are everything.

Before any homeowner contacts you, they will want to read reviews or references. This can be difficult when you are first starting out and you may need to get creative. We found the following were helpful if you have no references:
Family or friends whose pets you have experience with.
Are you a member or leader or any community groups, organisations or clubs? Think scouts, church groups, youth groups, girl guides etc.
Current or past employer.
References from commendable figures in your life, such as policeman, judge or doctor.
Airbnb References.
Dog walking references.
If you're not in the same location as the assignment thats ok. It can actually work in your favour. The best thing we found to do is have a Skype conversation with the homeowners. This is actually how we locked in our first sit!

Speaking over video allows you to showcase your real self. We have found it to be much more effective than chatting over email.

From the home and pet owners we have spoken to about this, they also agree video chat is the best way to get a real feel for someone.
Obtain A Police or Government Criminal Record Check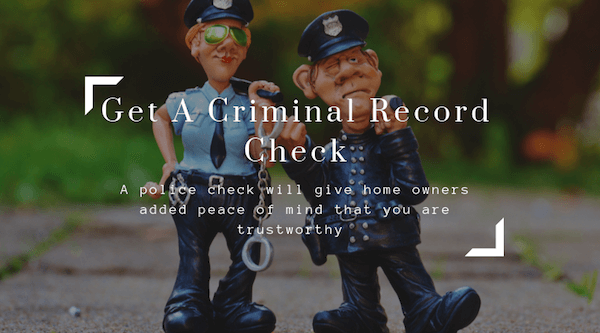 Having this police check documentation can help you secure a house sit without too much work. It is also a great backup to have if you have no references. Home owners often do their own due diligence when hiring sitters and a police check is a great way for them to see you are the perfect one to look after their cats and dogs.

Head to your local government or police website and order a Criminal Record Check. Each country might have a different version but should have something similar.

You will be living in someone else's home with all their valuable possessions. Having the peace of mind that you have no convictions can be something that a lot of homeowners look for. Particularly those with precious items.

Most countries these days will send you a physical copy and an online copy to your email address.

Its good to have these on hand to forward over to anyone that is interested in having you house sit for them or to add into your house sitting profile.

It might just be the peace of mind that they need to lock you into the house sitting assignment.
Sign Up To Online House Sitting Websites
The number one question we get on how to become a house sitter is: What are the best house sitting websites to use?

To be honest there is an immense amount of house sitting websites out there to link homeowners and house & pet sitters together.

The main ones that we use are listed below. All of these platforms charge a yearly membership fee but are definitely worth it after you lock in your first house! Most of these house sitting sites allow you to set up email alerts for certain types of sits, pets, locations or time frame. We highly recommend doing this so you don't miss any house sit opportunities.
Sign up to set up your house sitting profile using your existing email address showcasing your trustworthiness, responsibility, flexibility, and relevant housesit qualifications. Remember its all about trust and showing the homeowner you perfect for house sitting jobs.

Sometimes the smaller more local sites have some real awesome house sitting assignments & much less competition!
Be Creative and Self Advertise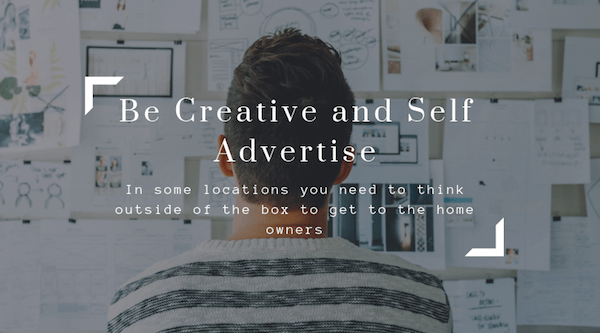 It is always a good idea to self advertise. Always remember with advertising creativity is key! Think outside the box. In the past we have:
Created leaflets and letter box dropped suburbs we want to house sit in.
Made posters and put them up on supermarket notice boards, cafes, yoga studios and community centres.
Dropped business cards at local pet shops, homeware stores and real estate agents.
Found and got active on Facebook groups and forums for expats in locations we want to visit.
Asked friends and family members to keep an ear out or to share our services on their travel adventures.
Spoke to local councils about adding our pet sitter services to their community resource documents.
Remember the best marketing is word of mouth. House sitting is still a fairly new concept to most. Someone who has never heard of house sitting might get your leaflet and tell 10 people about this great new idea they have found!
As always make sure you are on all social media platforms to get more exposure. Constantly put yourself out there. You never know what platforms your next house sit might come from!
Create yourself a Youtube Channel, Instagram, Facebook Page, Twitter, and your own personal house sitting website. If you have a LinkedIn profile even put it on there you never know who will stumble across you.
Complete A Pet First Aid Course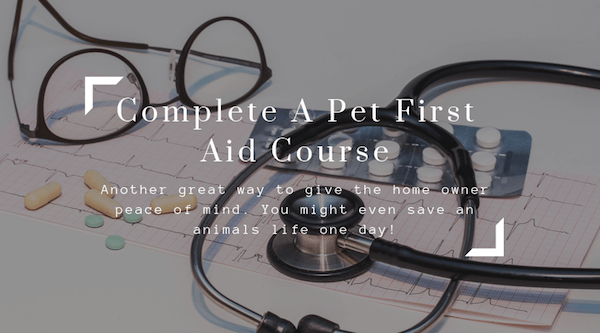 Again we can't stress how important it is to genuinely love pets and truly want to care for animals. Particularly if you are looking for long term house sitting assignments.

The last thing you want to happen while looking after a family's furry friend is for something bad to happen. You may need to be prepared for pet emergencies. Pets are like family members and you may need special skills to solve one of the many potential pet emergencies that can happen.

Make sure you find your local pet first aider and complete a course. Generally, they are a one day course and will only cost around $100.

Attending a one day course could one day save one of your pets lives. Along with your police record check, this looks more professional to any home owner. Once you have completed any course make sure you update your house sitting profile to let home owners know you have the skills.
Apply, Apply, Apply, Apply and Don't Forget to Follow Up!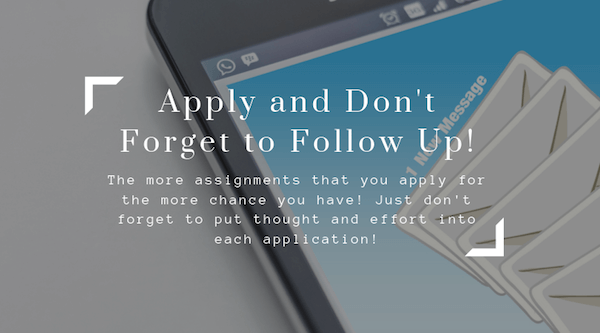 Once you are all signed up make sure you start applying for as many house sitting assignments as you can! Remember to make sure to set up your email alerts so you never miss your perfect sit.

House sitting is competitive so you need to be prompt and stand out with your applications.

Don't send a generic copy and paste application. Show the homeowner you have read their listing and you really want to look after their home and pets.

Remember, depending on the home's location some homeowners can get hundreds of applications in the space of 1 week.

You want to send an application that is well thought out, grammatically correct and relevant to the assignment.

Some homeowners will want to know why you want to house sit their house. The key here is to be honest.

You never know what will appeal to people. We have landed assignments and made life long friends from being honest about why we want to house sit.

House sitting is a way that we can stay somewhere for long period of time and get to know the real feel of somewhere. The option of checking out local markets, cafes, parks and walks is what we enjoy doing the most.

We can't think of a better way to do this than by exploring with a 4 legged friend at our side!
Don't Be Picky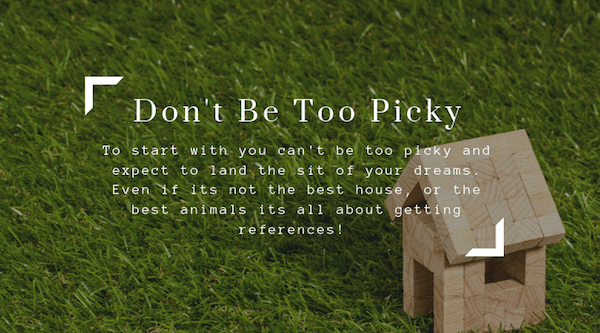 You can't pick when or for how long people need you to house sit for. You may need to be flexible and have no expectations for homes, times, locations or pets.

Remember, the more house sits you do the more references you will get. When we first started out house sitting we lived in London, UK. Our first house sitting job was also in London. This was simply so we could build up our references.

​The more references you have, the more likely someone is to hire you for a job as house sitter for them.

Homeowners get lots of applications. Particularly in nice areas or busy vacation spots. If you seem like you are too difficult they will move onto the next candidate!

Sometimes you will have gaps before or after a house sit. Don't worry this is not a big deal. There are many options out there for you for cheap or even free accommodation.

Look into Couchsurfing (free accommodation), Gumtree, Airbnb, Craigslist (USA only) or even the local community notice board. If you are new to Airbnb click here to sign up for free and get a BIG discount on your first stay!

If you need to fly to your house sits, make sure you check out where the cheapest airports to fly into are. It is also essential that you make sure your passports, visas and other travel documents are all in order!
Get All The Information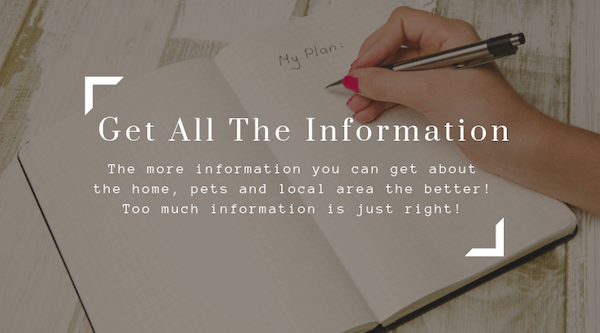 This is something we cant stress enough to those who we explain how to become a house sitter to.

Get the homeowner to list out all the information about the house and pet/s. No matter how small or un relevant they might think they detail is. Finding out all the information about the house, pets and area can save an unwanted problem or nasty surprises.

Find out everything from quirks of the house, when the postman comes to the names and numbers of the neighbours & close family members. The last thing you want to do is contact the family while they are enjoying their holiday with a question like 'where do you keep the trash bags?'.

Find out what the animals favourite snack is. If they are likely to get up in the night to go to the bathroom. Their favourite sleeping spot. If they have a favourite scratching spot and anything else you can think of. Your main priority is to keep the animals happy and safe and every last detail about them will make your house sit a lot easier.

If the house sit is overseas find out if you will need a working visa, holiday visa, tourist visa or travel visa to offer your house sitting services internationally. A handover checklist is important to keep track of these important aspects.

Example: We recently had a long term sit with a cat who had a tendency to throw up at night time. The home owner had owned this cat for many years and had just come accustom to this and had almost forgotten to tell us. Without crucial information like that, we could have been in a real panic.


Update and Communicate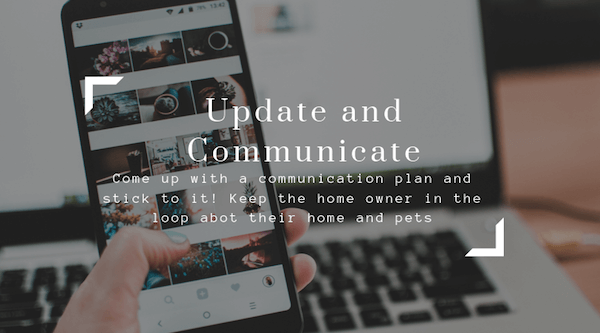 Before the homeowner goes away come up with an update schedule/communication schedule.

Remember that every homeowner is different. Some people will want daily photos and even Skype calls. Others will want an update once a week or only if something goes wrong. Be sure to come up with a clear plan of attack and respect it. Don't be worried if the home owner asks you to share updates with their friends while they are travelling around the globe. That is something we have come across before.

To some families their pet is everything and it is hard for them to leave them at home with strangers. You want to show the home owner the pet is having fun, happy and most importantly very well taken care of.
That is How To Become A House Sitter
We hope that our top 10 tips on how to be a house sitter has inspired you to get out there and start your own house sitting adventure!
Make sure you sign up to one of our favourite house sit sites and & start applying for house sitting opportunities!
Need More Help Starting Your House Sitting Adventure?
We love house & pet sitting and love helping other start their own journey.
If you have any questions or need advice about how to become a house sitter (or would like platform discounts, discount codes or reduced membership fees) please reach out to us in our private Facebook group!
House Sitting FAQs
Do you get paid to be a house sitter?
Unfortunately, the answer is no. House and pet sitting is a mutual agreement between the house sitter and the home owner where no money changes hands.
What does a professional house sitter do?
A professional house sitter is to make sure the home and pets are safe during the period of time where the home owner is away. As a house sitter your duties include but are not limited to caring for animals, walking the animals, administering any medication, taking care of the home, keeping on top of house work and garden maintenance and anything else specified by the home owner.
What do you do as a house sitter?
As a house sitter your main focus is keeping the home and animals safe while the home owner is away. This can include walking animals, feeding animals, administering medication, vet visits, keeping a tidy home, ensuring the home owners mail is safe, paying any bills, maintaining the yard/garden and ensuring no one breaks in.
Do house sitters stay overnight?
Yes, house sitters do stay over night. House sitters stay in your home for the house sits entire duration. Usually the house sitters will be coming form out of town (or out of the country) to care for your home so will be at the property the entire time of the sit.
Do house sitters pay utilities?
This is something that you need to discuss with your sitters. In general we do not pay for utility bills on house sits. When sitting we spend a lot of time caring for animals, the home owners property and making sure everything is safe – which in turn is 'working' for the utility bills to be covered when we are sitting. Usually we travel a long way to get to a sit, which we never ask for any compensation from the home owners for. We would not be comfortable paying for utilities on top of that. In saying that we make sure we take care when using utilities at the home so we don't put the homeowners out of pocket.
Do house sitters pay a security deposit?
Generally speaking, no. However, this comes down to the home owners. Make sure you sit down and talk with the home and pet owners throughout the application process about what they would like to do. We have never been asked to pay a security deposit for any of the house sits we have completed.
Why do people hire house sitters?
There are many reasons why home owners choose to get sitters in. The most common reasons are to take care of pets, administer medication to sick animals. Other common reasons homeowers hire sitters to take care of their home is to make sure the home is safe, and to make sure maintenance of the home is kept up while they are away.
Is trusted house sitters worth it?
Trusted House Sitters is a platform that we have been using for years. It is one of our go to platforms and a site that we highly recommend! In terms of is the cost worth it, it is one of the most expensive platforms but once you lock in your first sit the membership fee has already paid for itself! You can find house sits all around the world including Australia, Canada, Costa Rica, London, Mexico, New York, North America, Panama, Toronto, United States and almost anywhere else you can think of. For more on Trusted House Sitters read our full Trusted House Sitters review.
Want More House Sitting Information?