If you are looking for house sitting opportunities in France please jump straight to the bottom of this post.
At the start of 2019 we came up with a plan. That plan was to house sit our way through Europe for the summer.

I was house sitting in Thailand at the time, and Brittnay was house sitting back home in Melbourne.

Our plan was head to the UK in April 2019 and buy a campervan then drive from the UK to Greece – house sitting all the way.

In this post I am going to break down our experience house sitting in France.
Our Journey to House Sitting in France
We locked in our first house sit in France while travelling in India in March 2019.
House sitting is very popular In France and we had locked in this house sit on Trusted House Sitters, one of the best house sitting websites for house sitters for finding house sitting jobs in France.
We had been to France a couple of times but only on short 'long weekend' trips to Paris.
We were excited. This house sit was only a 40 minute drive from the famous wine region of Bordeaux in a not so famous wine region called Bergerac.
Ok , so we had a house sit locked in. All we had to do now was to get to the UK from India buy a campervan and drive to Bergerac. Easy right?
Well, not quite.
We had flights booked to Turkey from India around 10 days before the start of the house sit – at best we would be cutting it fine, but we love a challenge.
We landed in Turkey and frantically started looking for a camper van to buy – this was a little more difficult than we first thought – we had flights from Turkey to Manchester booked for 5 days out from the start of the house sit.
In the greater Manchester area there was not a whole lot of vans on offer that suited our needs – so we narrowed it down to 2 vans and arranged to meet the owners ASAP!
We flew into Manchester, hired a car and dove to meet the first van owner at a local mechanic to get it looked over. Since we were on a fairly tight time schedule (5 days till we had to be in Bergerac) we had decided if we liked the van and it passed the mechanic test we would buy it right there and then.
The mechanic looked over it and said there was no issues, so we took It for a test drive, withdraw-led cash and returned to offer the owner cash right there and then. He accepted and we had our camper van! And more importantly a way to get to France!
We started to feel a little bit better – we now had 5 days to make it from Manchester, UK to Bergerac, France. It was around 1400km with a 1.5 hour ferry crossing across the channel.

We booked in for the ferry the next morning, so our first destination was Dover 500km away. We made a few quick stops at Primark and a couple of charity shops to pick up some essentials and we were off driving into the night to make it for the ferry checkin at 3am.

We didn't get much sleep that night but our first night camping was cosy and we were quite chuffed with ourselves for pulling this off.

We made the ferry and landed in Calais. Driving on the right hand side of the road in a right hand drive car was weird, but we diddnt have too much trouble adjusting (thanks to Britts co-pilot skills).

On the journey down through France we managed to stay in some cool little French Village and were really, really enjoying our crash course into van life.

(As most of you should know by now we are massive foodies, and I can't even start to describe how good it was to be back in the country of the worlds best bread, cheese and red wine.)
Our First House Sit in France – Bergerac
We were looking after a home in the vines in Bergerac from a couple from the UK. Unfortunately we were looking after the home because of health issues from the home owner. We had explained that we were driving down from the UK and if anything changed let us know because we could make a beeline straight for their house if they needed to leave.

However, our UK phone decided it didn't want to work across the pond for the first couple of days and we had missed calls from them advising they had to leave and get back to the UK ASAP – when we finally sorted out our phone we got in touch with the homeowner who had advised they had already left and there was detailed instructions for us how to find the key and their dog was with a friend until we arrived.

The drive through the French wine country was like something out of a fairytale – there was vines and very impressive chateaus everywhere. It was insane. Our drive was full of 'look at that', 'wow' and 'omg' moments.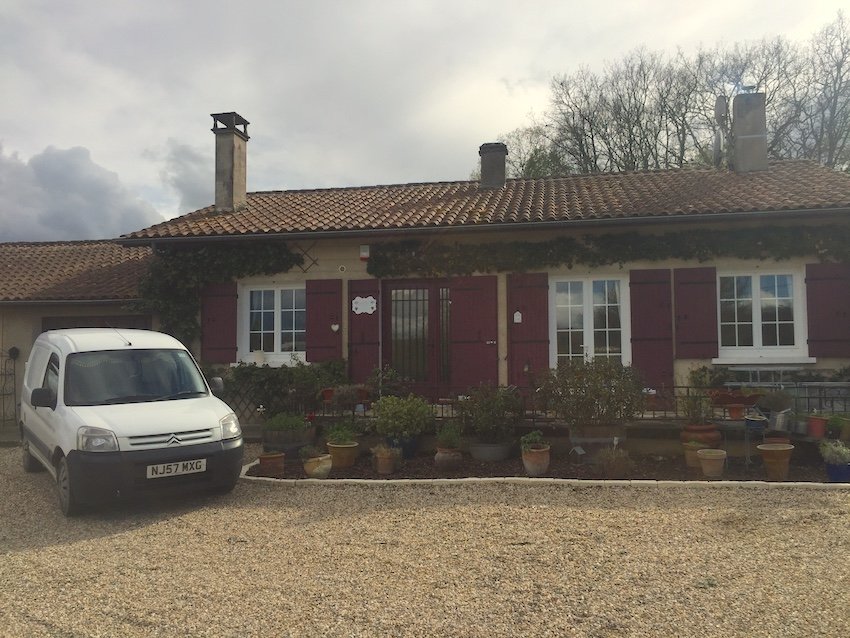 We arrived at the house sit just outside of the small village of Le Fliex, the house was nestled between the vines of the neighbouring vineyard. It was the most french thing we have ever seen.

We unpacked our things and made ourselves at home. We made contact with the home owners friend who had Flynn(our new dog) and she come over in the afternoon to deliver him. She was also an expat from the UK and took great pride in telling us all about the local markets, Boulangeries and Fromageries. We were very happy to learn that one of the top 10 farmers markets in France was about a 15 minute drive away (we were in heaven)!

Looking after Flynn was awesome. He had a big yard to play in and loved chasing balls and playing. He also required 2 walks a day – which to our pleasure was to be through the neighbouring vineyards! We had several walks that he enjoyed, however, we were welcome to walk anywhere through the neighbouring vineyards as long as we stayed 2 rows back from any of the houses.

Everyday for 6 weeks was an adventure for us. We loved checking out the local vine yards while walking Flynn.

We thoroughly enjoyed the Bergerac area. It has some of the best wine we have had on our entire European house sitting road trip. Most of which came from local co-ops. The co-ops sell local DOC wine straight out of the barrel at anywhere from 1 – 3 Euros per litre. We had a real ball finding and sampling the wine of the area.

I also purchased a French road bike and spent most mornings out and about exploring the Bergerac area via cycle – it was just magic!

Unfortunately this house sit was coming to an end fast – we had thoroughly enjoyed our time in Bergerac and were really going to miss Flynn.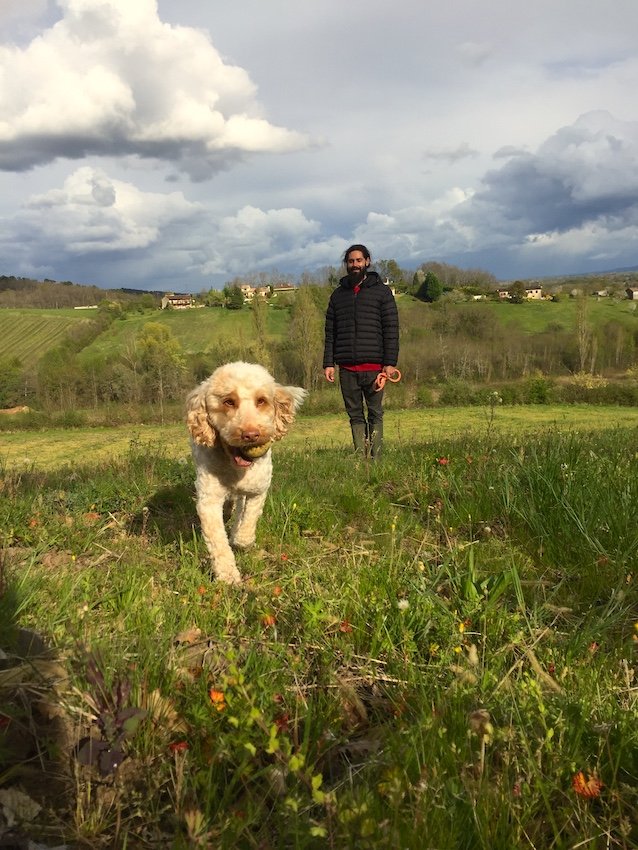 Our Second House Sitting Job in France – Montaigu-de-Quercy
We had locked in this house sit via Trusted House Sitters – we were actually approached by the homeowner for this house sitting assignment – which worked in quite perfectly with a gap we had in our schedule.

We had 1 week to get to Montaigu-de-Quercy from Bergerac – so we took the opportunity to check out some some of the French countryside and take in some more local markets, cheese, baguettes and wine.

This house sit was in the middle of the countryside and was what we like to call the 'cat chateau'. This home was a rather large stone house with 6 cats and 1 dog. The homeowner wanted us to arrive the day before she left so she could meet us and take us through several key points of the house – such as the dogs walking route, cleaning the pool and generally keeping on top of her 6 cats!
We arrived at the home late afternoon – we were greeted by an Irish expat who had called France home for over 40 years. Her home was beautiful (at this point we were starting to wonder if France was just a fairytale country).

She had prepared a roast for lunch so we got to know each other over a meal – of course accompanied by local wine. We really enjoyed getting to know the homeowner and learnt a lot about the local area and her journey living in Montaigu-de-Quercy. The homeowners late husband was a wine collector and together they had an amazing wine collection from all around France – it was like a dream cellar!

She took us through the home, the cats and everything we needed to know about the dog walk. The dog walking route was a little bit hard to explain since it was through paddocks, vines, and bushland so we went for a walk with her (and Rocky) before she left. W were amazed to learn that 2 of the cats would also join us on our daily walk. This was a house sitting first for us!

We were only in Montaigu-de-Quercy for a short 3 weeks, it was just starting to become warm enough to swim in the pol in the afternoon, so our days would start with a walk with the dog (and cats), followed by 5 or 6 hours or work. We would then go out and explore the local area and collect locals bread, cheese and wine and come back to the home where we would have a locally sourced platter out by the pool – we seriously couldn't believe how stunning this was!

We really enjoyed looking after Rocky and the 6 cats – 4 of the cats were very friendly and would hang out with us all day – usually we would have one on our laps each and the other 2 would be sitting on the table next to our laptops it was too cute!

However, like all good things this house sit had to come to an end. It was a very fast 3 weeks but we thoroughly enjoyed ourselves and it was time to move onto the next one!

The home owner came later afternoon and to return the favour we cooked her dinner using local French ingredients and shared a couple of bottles of wine.

We thoroughly enjoy getting to know the homeowners who we house sit sit – this women was very interesting and still someone who we stay in contact with to this day! One day we really want to come back to this home to catch up and take care of her animal squad again!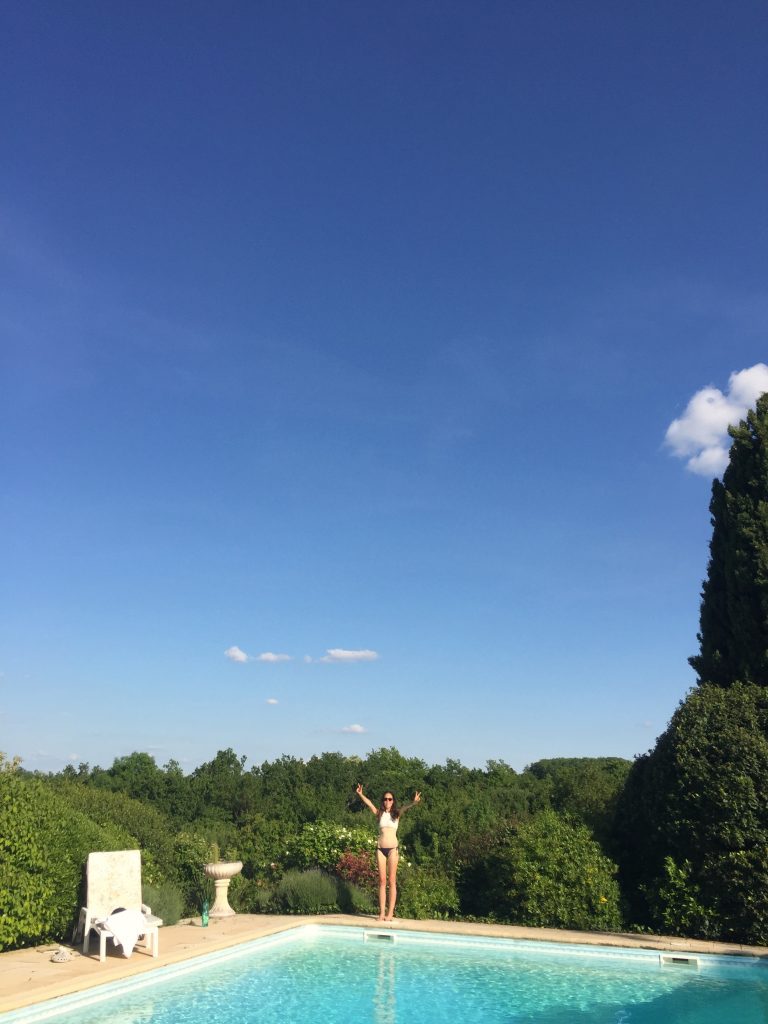 Our Final House Sitting Opportunity in France – Salon-de-Provence
We arranged this house sitting job through Nomador. It was a last minute style house sit that we had locked in a week before it started – which was cool with us! We had purchased the camper van so we could take a few weeks of house sitting to explore between house sits.

This house sit was in Salon-de-Provence, somewhere that was on our visit list while we were house sitting in France.

Again we arrived in Salon-de-Provence the night before the homeowner left. This homeowner was an Australian expat who had been living in France for around 20 years. She absolutely loved Salon and we quickly made a bond when we found out she was obsessed with French food. She was quick to write down all the essential food must do's in Salon-de-Provence.
This home was very close to the centre of Salon-de Provence and had a gorgeous (very French) style backyard. We were looking after a brother and sister pair of beautiful white cats. We call these cats the show cats, because they were perfectly white, perfectly groomed and all round just beautiful cats.

The cats had free range throughout the house and the backyard so we only had to keep on top of feeding them, keeping the home safe and tending to the backyard garden.

By this point it was mid summer and it was HOT. We spent most mornings working followed by afternoon lazing around the backyard eating and drinking local products. I think we were starting to get the hang of this French way of life!

Salon-de-Provence is the biggest town we had house sit in while house sitting in France – every day there was a new local market to check out within driving distance and we even timed it right to checkout the local yearly farmers expo! This was a cool day out sampling local French products and talking to local farmers.

This house sit was for just over 6 weeks, we really enjoyed our time in Salon and would love to go back sometime. There is lots to see, do and eat!

At the homeowners request we would be leaving this house sit early to be gone when she got home – this is not uncommon when house sitting. Most homeowners have been on quite a long journey and jut went to come back to an empty, clean home.

So we were out of the house at 8am and on our way to our next house sit – which would be in Italy! We had been to Italy several time and were excited to be back in the land of pizza, pasta and Chianti wine!
Are You Looking For House Sitting Jobs in France?
House sitting is very popular in France – it is so popular amongst homeowners that unfortunately we have had to turn down lots of house sitting opportunities in France.

This is because of already having sits locked in, the sits being too far out fo the way or because of overlaps in our schedule. If you are looking at options for house sitting internationally I would highly recommend looking into France!

The most popular sites for home owners in France are Trusted House Sitters, Nomador and House Carers.
At the time of writing this post it is coming into Christmas and the holiday period. Throughout this time period house sitters are in hot demand! If you are looking to start house sitting this is the perfect time because there are a lot of house sitting jobs in France on offer!

We highly recommend checking out these websites and if you need a little extra help at all have a look at our step by step guide to becoming a house sitter.

Happy house sitting in France everyone!
Find House Sitting Jobs in France