Recently, we sat down the Petsitboys. A full time retired pet sitting couple. In this interview we talk about travelling, house sitting, how the pandemic has effected their lifestyle and much, much more!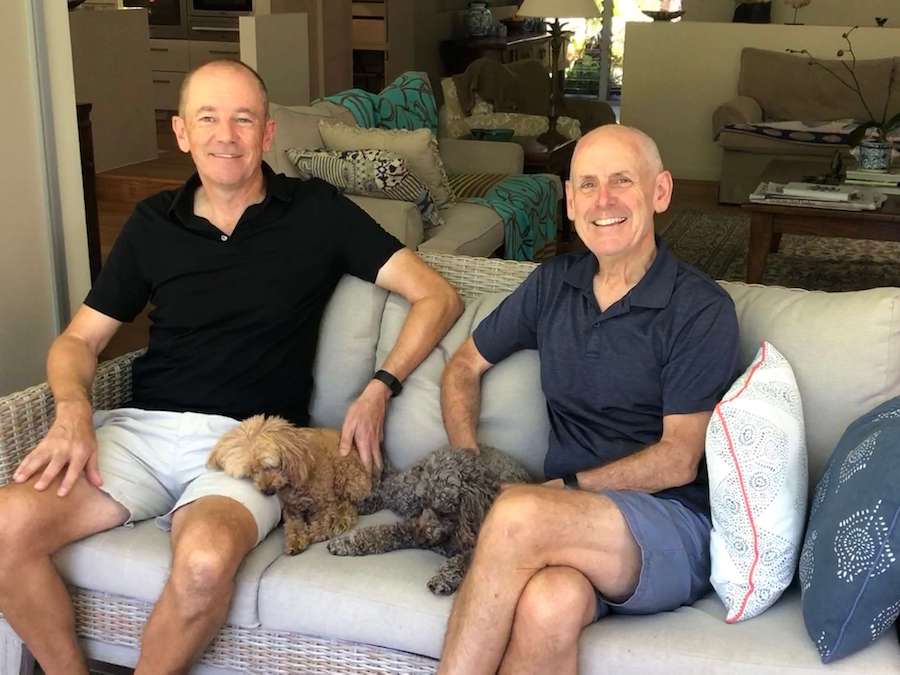 The Petsitboys House Sitting Couple Interview
Tell us a little bit about yourselves – who are you, where are you from, do you housesit full-time or sporadically?
We are Ian and Lloyd. We met in Manchester, England in 1981 and have been together since. We moved with our careers to London, where we lived for 12 years and again to Sydney, where we lived for 18 years.
In 2017 we decided to take early retirement and travel. Our first big overseas trip was a holiday for four months around Spain and Portugal in the summer of 2018 using AirBnB and hotel accommodation. We also visited our families and friends in the UK.
We started house sitting in late 2018 and have done it full time since, with some holidays in between. We took a break this year due to Covid but we are now back full-time house sitting, with holidays filling the gaps.
How many housesits have you had and where?
To date we have completed 26 house sits and are currently on our 27th. The pets that we have looked after are:
39 dogs
16 cats
14 chickens
28 horses
12 cows
2 pigs
23 sheep
Our house sits have been in Australia, the UK and France.
Why do you housesit? What is the main motivation?
We really enjoy travelling and discovering new places. House sitting allows us to live like a local and see what it is like to live in a place for a certain amount of time, we really get to experience a neighbourhood or an area.
We always aim for longer sits, usually of at least two weeks.
We have done some shorter sits, but only when it has suited us, such as to fill a gap in our calendar or if the house sit location is a place that we really want to visit.
We are also trying to work out where we eventually want to live when we finally settle down. To date we have discovered some really beautiful places in England and Australia, we have two passports each so are able to choose where we would like to be.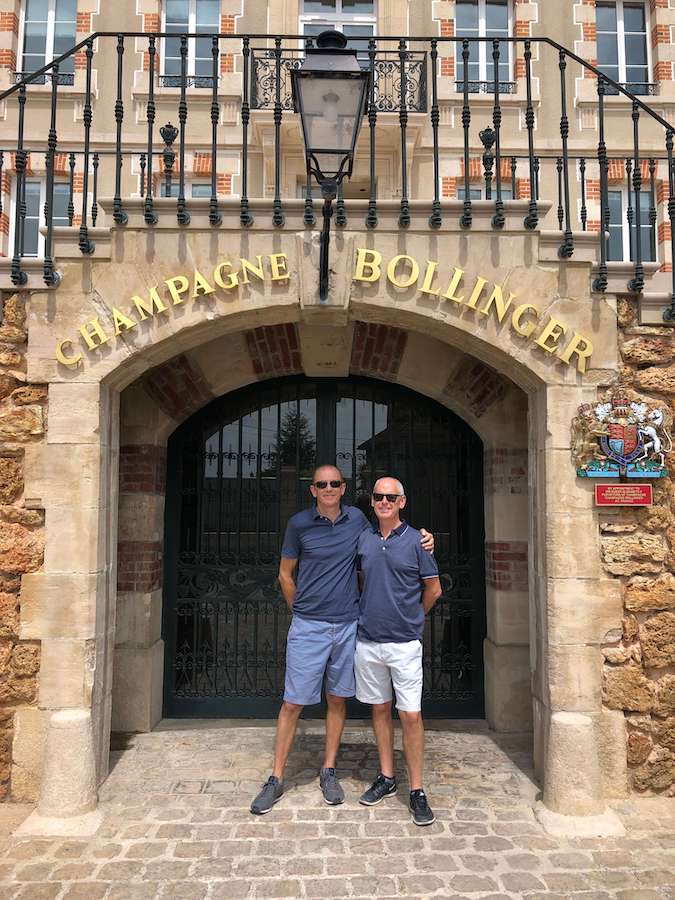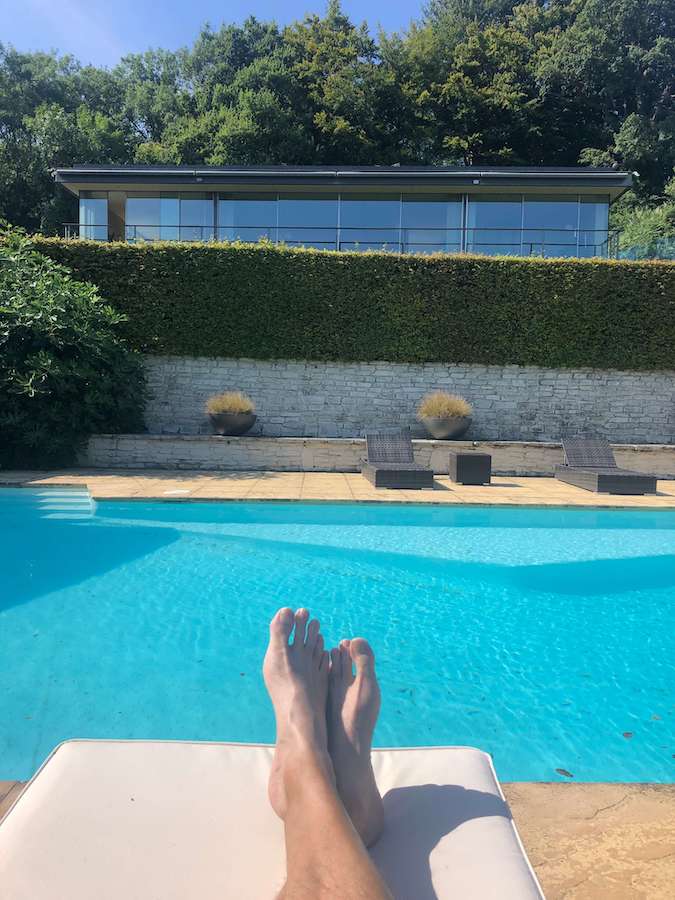 How did you find out about housesitting?
Before leaving work a colleague suggested that we should look into house sitting as she had a friend who was doing it and loved it. We had never heard of house sitting and were surprised by how many house sitting websites existed when we searched the internet.
Pros of House Sitting?
There are so many upsides to house sitting.
Firstly we love travelling and discovering new places or returning to places that we really like. We also love being social and we love meeting new people.
To date we have met some amazing homeowners, staying in touch with the majority of them. Sometimes it seems like there is hardly a day goes by that we do not hear from one of our previous homeowners by WhatsApp, or some other communication method, which is really nice.
We are also really touched when someone new writes to us through one of the websites to ask if we could house sit for them.
This seems to happen more and more as time goes by, I guess that we now have 26 five star reviews across the various websites helps.
Plus we get recommendations from previous homeowners to their friends. We also did two house sits recently for the same owner in Peregian Beach on the Sunshine Coast. She was following us on Instagram and contacted through that social network.
We also love looking after pets and animals. We have discovered a real love for all the four-legged creatures. Dogs, in particular, are just stunning, we often wonder how their minds work, one minute their owners are there, the next they have left for a holiday and two guys have moved into the house! We find that by day two, as far as the dogs are concerned, we are their new owners and they love the routines that we get them into.
We always keep the food and any medication routines, but we introduce daily walks, we like to get at least 10K steps a day, and we take them wherever we are allowed to. This allows us to explore the local area too. We enjoy taking them to local cafes and bars, or wherever we can.
There's a great App called Pupsy that lists dog-friendly venues, we use it all the time. We send photos to the owners and we often get replies saying that their dog has been to more places than they have been too! We had one instance where the owner took the dog to a café after we had left, the waitress came over to serve, and to the surprise of the owner, said: "oh, hello Romeo, how are you?"
Another thing that we have enjoyed is meeting other house sitters. This started initially through our Instagram postings. We met house sitters Sandy and Rob in the south of England when they were nearby on a sit. They then introduced us to two Australian house sitters, Glenn and Jacqueline, who we met up while they were house sitting in New York. Then all six of us were in Australia house sitting. During lockdown, Glenn and Jacqueline started a Zoom quiz that we joined and through that, we met a whole bunch of other house sitters. It's been really good fun, we share stories, photos, tips ask each other for any advice etc.
Cons of House Sitting?
There are not too many. Covid has brought a lot of uncertainty with it and caused the cancellation of lots of trips for homeowners. We had four house sits confirmed in French country homes across the summer, they were all cancelled and we remained in Australia. So it is the uncertainty as to whether the owners will travel that is the biggest problem. Having said that, up until Covid we only had one cancellation and on the very same day we replaced that house sit with another one.
What's been the biggest or best adventure so far?
This is really hard to choose. As far as the biggest goes it would have to be the 60 Acre hobby farm that we looked after in the Upper Hunter Valley. There were 24 polo cross horses, 12 cattle and a farm dog. It was a once in a lifetime opportunity in beautiful rolling hills with the Hunter Valley wineries 30 minutes away.
As far as the best, we have thoroughly enjoyed the majority of our house sits, but some of the best have been:
Our three weeks in a country cottage in the Champagne Region of France where we looked after two Labradors near to the beautiful town of Troyes. We were able to explore the various towns where Champagne is produced and we took several cave tours, including Bollinger. One of the daily highlights was taking the dogs to the local lake each morning for a swim and stopping on the way home to buy croissants for breakfast at the local bakers.

Then there was The Quell, an amazing home designed by the architect Michael Manser on the West Sussex/Surrey border. The house had huge views down to the south coast of England. There were so many beautiful typical English villages nearby with pubs sat on the village green, it was idyllic. The pets, a dog and cat, Coco and Minty, have their own Instagram page and are hilarious together, always playing and sleeping with each other.

We loved our time in an English country cottage in Ashburton in Devon where we looked after two spaniels, two pigs and two chickens. The dogs had their own three-acre field and wooded area to play in. We would walk around it each day with the dogs, their excitement on heading over to the field was enormous and such a pleasure to experience.

On the Mornington Peninsula in Victoria, Australia, we looked after two rescue dogs, a cat and seven chickens on four acres. The young couple who owned the home were living the good life. They grew a huge range of fruit and vegetables in their gardens. With all the eggs and other produce on-site that we were allowed to use we only had to shop to top up our needs. We also got to visit many of the gorgeous wineries and eateries in the area.

Finally, our current house sit on the Sunshine Coast in another beautifully architecturally designed home. The climate here is very tropical and the house and gardens have been given a beautiful Balinese look, it feels like we are in a resort. The hardest part has been looking after the pool and the lawns, Lloyd has become a bit of an expert with the ride-on mower. The two poodles here are just adorable and love exploring the gardens with us, plus we take them out to the local coast each morning for daily walks.
How do you decide on a destination?
Our initial decision is based around the time of year, we love summer! Our blog is called nomadicsummer.com. We experienced enough winters in the UK and Sydney to try to inspire us to live our lives in summer. We managed to do this very well over the last three years travelling between the northern and southern hemispheres for each summer.
In Australia we love being by the coast, the hinterland or in the wine regions and have been very lucky to do house sits in Mornington Peninsula, the Hunter Valley, the Northern Rivers regions of NSW and on the Sunshine Coast in Queensland.
We joined Trusted House Sitters to travel Europe and were very lucky to be selected for house sits in the UK and France. In England, we chose country areas in the south including Devon, Dorset, Surrey and West Sussex. In France, we selected farmhouses and had a wonderful experience in the Champagne Region. We were due to house sit this summer in the countryside near Bordeaux, Toulouse, the Loire Valley and again in Champagne.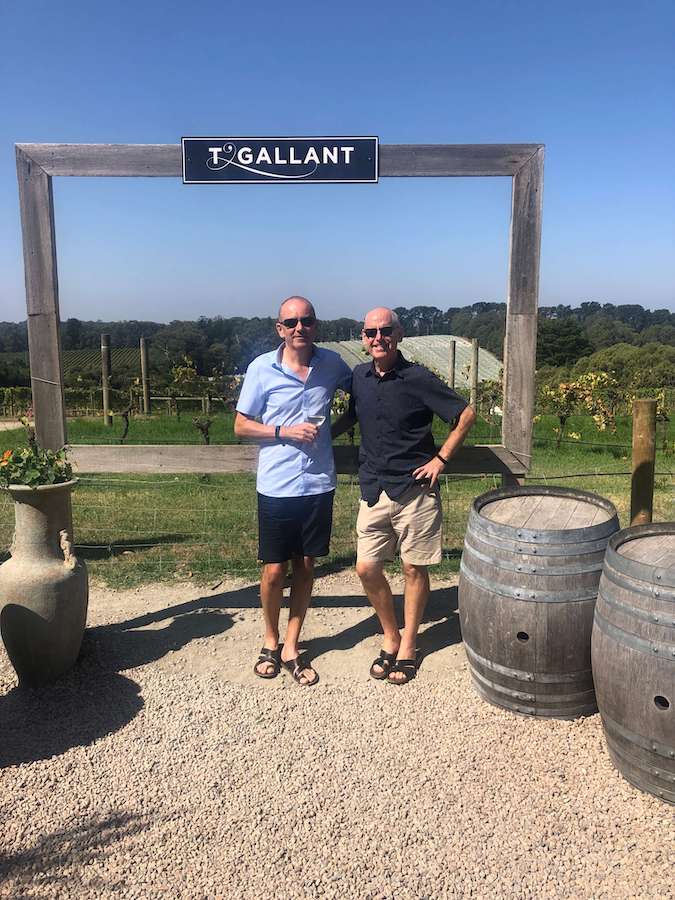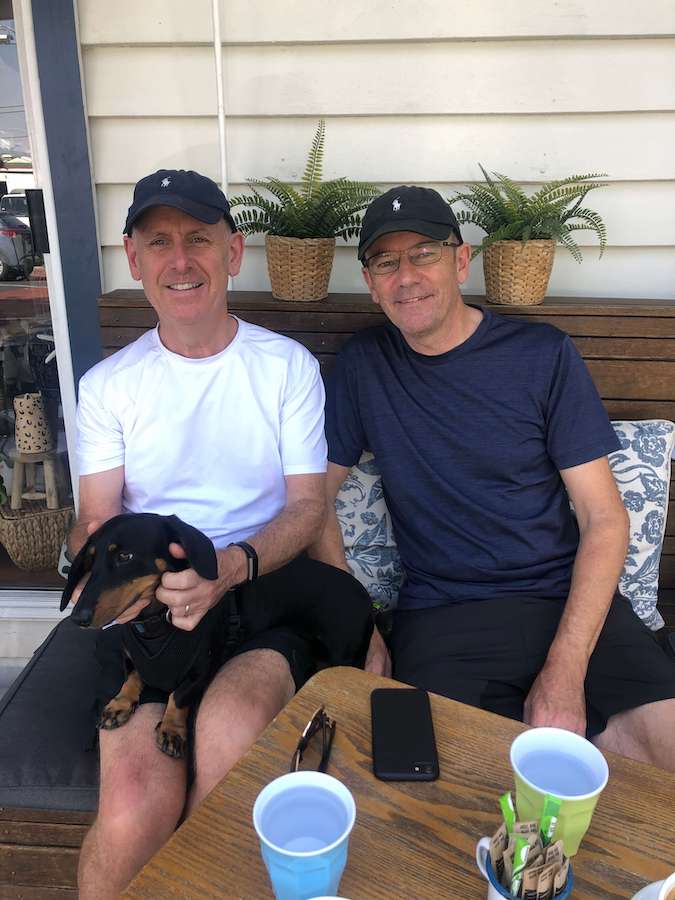 How much luggage do you travel with?
We are very minimal. When we started to travel full time we bought two new medium-sized suitcases and one wheelie. We are very digital and use our iPads for books and magazines and the cloud to store any documents that we need. The good thing about living in summer everywhere is that the clothes required for summer are a lot less than those needed for winter. We are also are very good at throwing away old clothes and shoes when we buy anything new.
How has the pandemic changed your house sitting lifestyle?
We were on a house sit in Alstonville in northern NSW when the virus was first making the news. The owners were away for four weeks. In the second week, we received a message to say that they were returning home the following week, so we left on their return and booked an Airbnb for a week.
Our next house sit commenced on the following Saturday in Cumbalum, again in northern NSW, the owners were going to Queensland. On the Sunday the Australian government announced the first lockdown. The owners returned three days later on Tuesday, so we booked ourselves into a local hotel.
We had two more house sits confirmed in the coming weeks. We decided that we needed to find ourselves a permanent rental. So we contacted the owners and we cancelled the two upcoming house sits, one of these owners was due to go on a cruise for four weeks, but that was cancelled, so they would have cancelled the house sit.
We then spent the next few days looking for a permanent rental and we found one in Kingscliff at the top of NSW. We initially rented it for three months but ended up staying eight months. We loved Kingscliff and the Tweed Valley area, it was a real discovery for us.
Was it hard for you to secure your first housesitting gig? How many applications did you have to send before you got accepted for your first assignment?
Before departing for Europe in early 2018, we were in the Byron Bay area. After some research of the various house sitting websites we signed up with Aussie House Sitters and we set up some alerts for house sits for the end of 2018.
A house sit was listed for four weeks over Christmas and New Year in Ballina. We wrote to the owner and introduced ourselves and said we could meet up as we were in the area. We quickly received a reply from Maree and arranged a meeting with her and Romeo, the little dog that we would be looking after. By the end of the meeting, Maree asked if we could do the sit and we confirmed straight away.
We had an amazing time with Romeo and discovered Ballina and the other local towns with him. Maree loved how we sent her, and her husband, Paul, daily photo updates of what we had done with Romeo. Her favourite one was when we set a plate at the Christmas Day table for him, it had a little antipasto platter of dog biscuits for him. He happily sat at the table with us, he's a very special little chap.
Since that time Maree, Paul and Romeo have become very good friends and we have met up lots of times for lunches and dinners.
We are also very pleased to say that Romeo gets very excited when we turn up!
We always try and meet up with the homeowners, if we can, or we organise a video chat with them. This has worked really well for us and it gives a measure of comfort to both parties.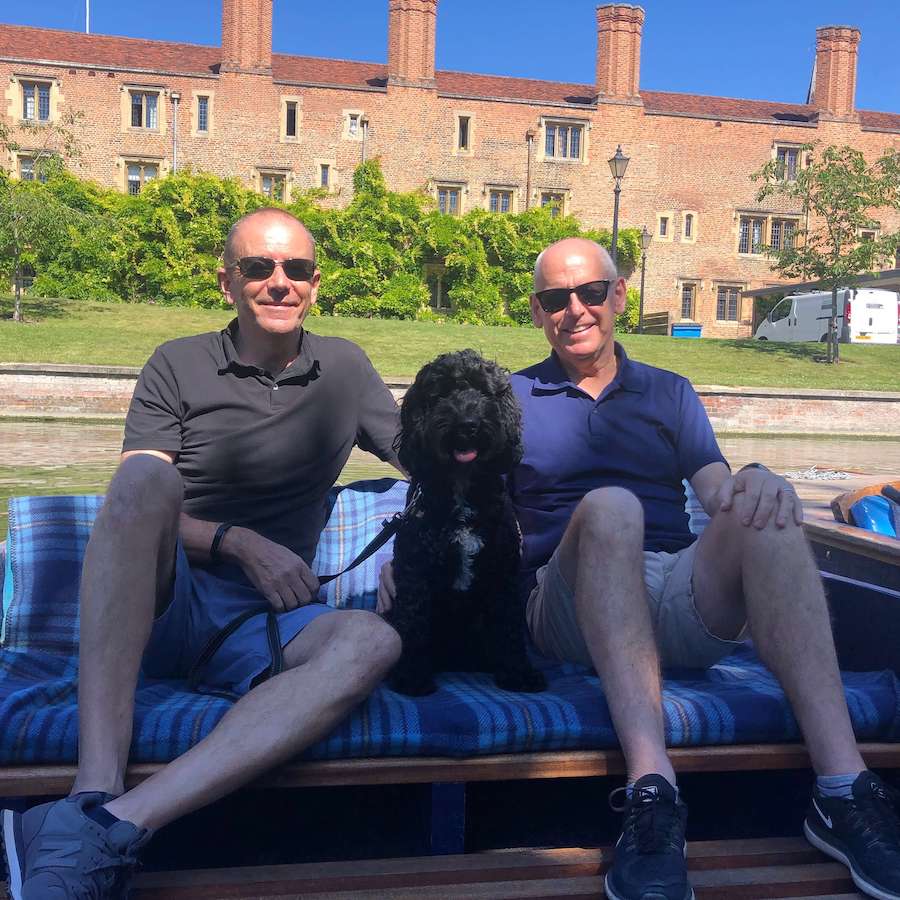 Have you ever have any unusual pets to take care of or responsibilities that were out of the norm?
We had a house sit cancel on us in December 2018, so we checked our house sit alerts on the various websites and noticed that the dates we had input on Mind A Home were incorrect by one day. We changed the date and re-ran the search. A house sit in the Upper Hunter Valley came up for the exact dates, it was on a 60-acre farm with 24 horses, 12 cows and one dog, who had the fabulous name, T-Bone.
The owner had listed his mobile number so we called him. On explaining that we had not had any experience with horses or cattle his reply was "never mind that, have you had any experience with a swimming pool?" We had and we offered the house sit!
On our walk around the farm with the owner, we were told that two of the cows were pregnant and may give birth while we were there! Luckily they didn't, although we were given the vets number to call if they did go into birth. We were also advised to carry a stick while walking around the farm to bang onto the ground to frighten away any brown snakes!
Have you had any funny housesitting experiences?
There have been lots of funny things happen. On our current house sit the dogs sleep on the bed, which is not unusual, but in this case, one of the dogs likes to be under the sheets!
The owners of the house in the Hunter Valley did not lock their home and so we had no keys. One night at 4 am an alarm rang around the house, the power had gone off in a storm and T-Bone, the dog, was missing. The owner kept a battery torch by the front door for such occasions, so we made our way through the house in darkness, with the wind blowing, the alarm ringing and not quite sure where we were going, not knowing if anyone or anything else was there, it was pretty scary! We were able to find the torch and stop the alarm and we found T-Bone. We didn't go back to bed though!
Do you have any tips for Others Wanting to get started house sitting?
Seize the day, go for it, register with one or more of the house sitting sites, write a great profile, upload some photographs and start searching and enjoy the journey.
Where to next (when you can)?
We have a two-month house sit in Brisbane coming up. Before returning full time to house sitting, we decided to see if we could confirm a Christmas and New Year sit first. Once we found this one we started searching again for future house sits.
Within a few days, we found our current three-week sit. Then the owners in Alstonville, who we sat for in February this year, asked us if we could sit for them again and their dates just happened to fill the gap between our current sit and Brisbane.
This week we were contacted by the Instagram homeowner from Peregian Beach on the Sunshine Coast to ask if we could sit for her again, this time for five weeks from Mid February. Again these dates worked perfectly for us. So that means we are now booked fully to late March 2021.
It is looking unlikely that we will get to Europe for the summer of 2021, due to Covid, so our plan is to stay in Queensland and head north towards Cairns and see where that take us. We also plan on driving around Australia at some point.
Any final words?
We are loving our house sitting and travelling lifestyle and would highly recommend it to anyone, but be prepared to give as much as you get.
It's not a free ride, we always take great care of the homes and pets that we look after and take our responsibilities very seriously. We have 26 five star reviews that prove our hard work has been worth it. We are always very grateful and are amazed at the kind words that we receive from the homeowners.
Anyone who would like to follow us can follow our Instagram postings at:
Our blog at www.nomadicsummer.com
Or find us on the following websites for house sitting enquires:
Does Pet Sitting Sound Good To You?